living
•
reading time: 10 min
•
publication date: 17.01.2023
ONE YEAR IN VILLACH - FUN "MUST-DO" ACTIVITIES THROUGH THE FOUR SEASONS
RVT | Martin Hofmann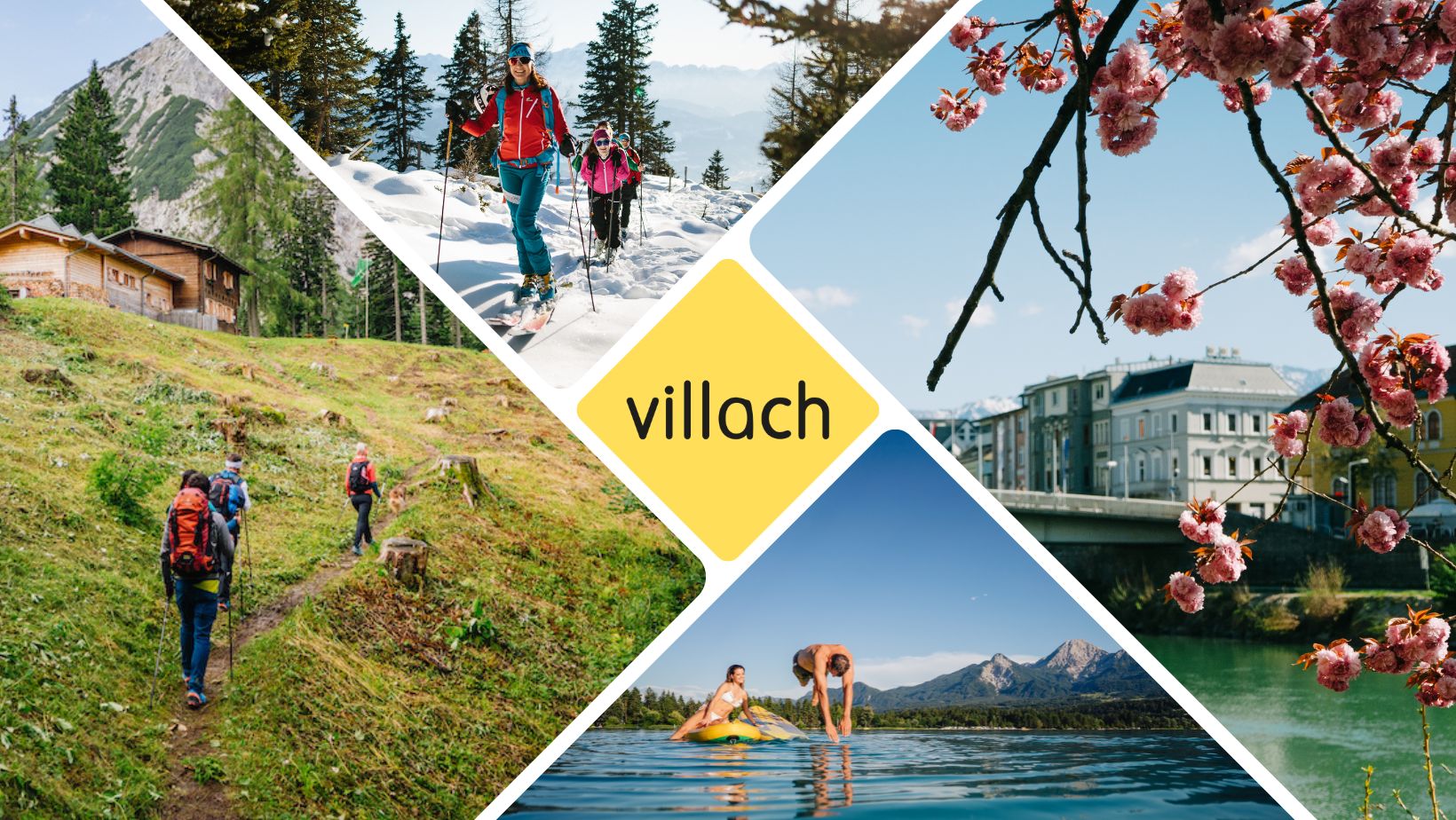 It is safe to say, whether it is the hot summer months, the crisp winter months, or anywhere in between, there are a lot of "must do's" in Villach. The purpose of this blog post will be to outline different activities to do in each season in Villach, and help inspire you to take advantage of the different things to do in the new year.
© Stadt Villach | Karin Wernig

SPRING
Starting with the Spring, Villach has many activities to offer in such pleasant temperatures. This time of year is great to do activities outdoors, and appreciate nature as this is when flowers start to bloom, the sun starts to feel warmer, and colors start to pop. The first activity that embraces this is the Flower Market of Villach. Different gardeners and florists gather in Hauptplatz and have vegetables, flowers, and garden accessories for everyone to enjoy. It is beautiful, and a great spot to buy some vegetable plants and seeds or beautiful flowers for your home.
Another great way to ring in the spring is to enjoy Villach's Easter Market. From March 30th to April 8th, 2023, Villach's city center is transformed into an Easter paradise. From Easter Egg Bashing Tournaments - a traditional Easter custom in which hard-boiled Easter eggs collide in a playful way to try and break the opponent's shell first -, to beautiful handmade crafts, to children sized railways, there is sure to be something for everyone to enjoy!
Finally, for those who love to stay active, there are paddleboarding and biking events that allow you to not only get in some physical activity, but also appreciate the lakes and nature around you! For example, there is something called "The Lake Rocks Festival" which takes place from May 19th to 22nd, 2023 at Faaker See. This is a festival where the races of the legendary SUP Alps Trophy guarantee exciting competitions for international top athletes, paddle amateurs, and beginners. There is lots of fun to be had, whether you are a competitor or a fan enjoying the great ambiance.
SUMMER
Summers in Villach are truly breathtaking. One of the most beautiful parts is the turquoise bodies of water that surround the city. In the summer, many activities revolve around water sports and leisure around the numerous lakes and rivers. At the local lakes Aichwaldsee, Faaker See, Ossiacher See, Magdalenen See, Silbersee, Vassacher See and at a few spots at the Gail River, you can find natural swimming areas or public beaches with free entry where you can either go for a refreshing swim, do some fun water sports, get your tan on, or have a nice picnic.

In addition to this, there are also many summer events that are fun to attend within the Carinthia. For example, European Bike Week, which takes place September 5th-10th, 2023, is Europe's largest motorcycle meeting, attracting around 100,000 bike fans in the region every year. If you are a music lover, the Carinthian Summer Music Festival is the most important music and cultural festival in the Austrian province of Carinthia and has been held annually since 1969. All genres of music are played and it is a great ambiance to listen to music with friends in the warm summer months.
Perhaps the most exciting summer event is Villach's Kirchtag, Austria's largest traditional folk festival where over 450,000 people visit the city's vibrant event. The festival's 78th edition will take place from July 30th to August 6th in 2023. Live music and dancing, traditional Austrian foods and beers, amusements rides, lederhosen and dirndl dresses, and a whole lot of fun is what this event has to offer. It is definitely something you cannot miss!

In addition to these festivals, there is also the "Summerfeeling" event series from June 28th to September 6th. Villach transforms into Carinthia's most beautiful and coziest outdoor living room. There are concerts in pub gardens, long shopping nights, and the Street Artists Festival, which takes place on July 12th, 19th and 26th 2023 and shows performances of street artists, from acrobatics to fire shows, as well as artworks and paintings at the "Walk Of Art" in Lederergasse. Lastly, the multimedia fountain show called "DRAUpuls" takes place Wednesdays and Fridays during the summer from June 16th to September 9th, 2023 starting at 9.30 pm! Visitors can expect peppy music here and impressive lighting effects right on the Drau River.
FALL
Autumn is, once again, a season where there is beautiful weather and nature is truly breathtaking. The changing of the leaves and the warm temperatures create a perfect combination to get outside and be active. Hiking is one of Austria's most common forms of activities because of the stunning views and large amounts of trails. There are hundreds of trails within minutes of the city, and it is a great way to get outside and be active! If you enjoy this and are also a foodie- then the annual HÜTTENKULT hiking event is something you need to do! There are small huts with delicious traditional and international foods that are available for hikers either during or after their hikes.
WINTER
Last but not least, we will outline a few of the many activities to do during the winters of Villach. If you enjoy sledding, cross country skiing, backcountry skiing, and amazing views, then you need to either hike or drive to the top of Villach's mountain called Dobratsch. Not only are there many activities to do, but there are also two mountain huts with traditional Austrian food and also some delicious pizzas cooked in a pizza oven! It is a perfect thing to do on a beautiful winter day. But if you prefer downhill skiing then perhaps the ski areas Gerlitzen Alps and Dreiländereck are more your style!

Another way to enjoy the lakes around Villach is to appreciate them in their frozen state, and go ice skating. When the temperatures drop, the Villach lakes turn into beautiful ice worlds that invite you to tie your skates and start skating. And if the warm weather doesn't allow ice skating on the lake, an artificial ice rink right in the city center offers a popular alternative. After the outdoor activities, the KärntenTherme in Warmbad-Villach beckons. Pools, steaming saunas and relaxation rooms are waiting to be enjoyed here.
The big Christmas market Villacher Advent will take place from November 11th to December 24th, 2023. Warm mulled wine in warm cabins right in the old town, ice skating on the central ice rink, trying traditional dishes, or simply strolling through the city is a very special experience during this time. You also cannot miss the light installation Winter Wunder Wald by children's book author Thomas Brezina.
After the turn of the year, the traditional Villacher Fasching also takes place in Villach. This colorful and vibrant carnival has a wide variety of events during this time of year. The highlight is always a big parade in the city center on the so-called carnival Saturday, which will take place on February 18th in 2023. All of Villach dresses up, celebrates together in the squares and in the town's bars as the traditional carnival greeting "Lei-Lei" echoes through the streets throughout the day.
In the end, there is truly something for everyone during each season in Villach. We hope this article helped inspire you to take advantage of these in 2023! If you would like to be up to date on upcoming events then don't miss to subscribe to our monthly newsletter viewww.
---