living
•
reading time: 7 min
•
publication date: 17.05.2021
THE NEIGHBORHOODS SURROUNDING VILLACH'S CITY CENTER
RVT | Martin Hofmann
Some time ago we told you about the benefits of living in Villach's city center and today we'd like to introduce you to the surrounding neighborhoods. Each area has its own charms, beauty, and stories, and we hope that with these descriptions we can help you with your search for the perfect place to live.
© OpenStreetMap-Mitwirkende | Stefanie Kaiser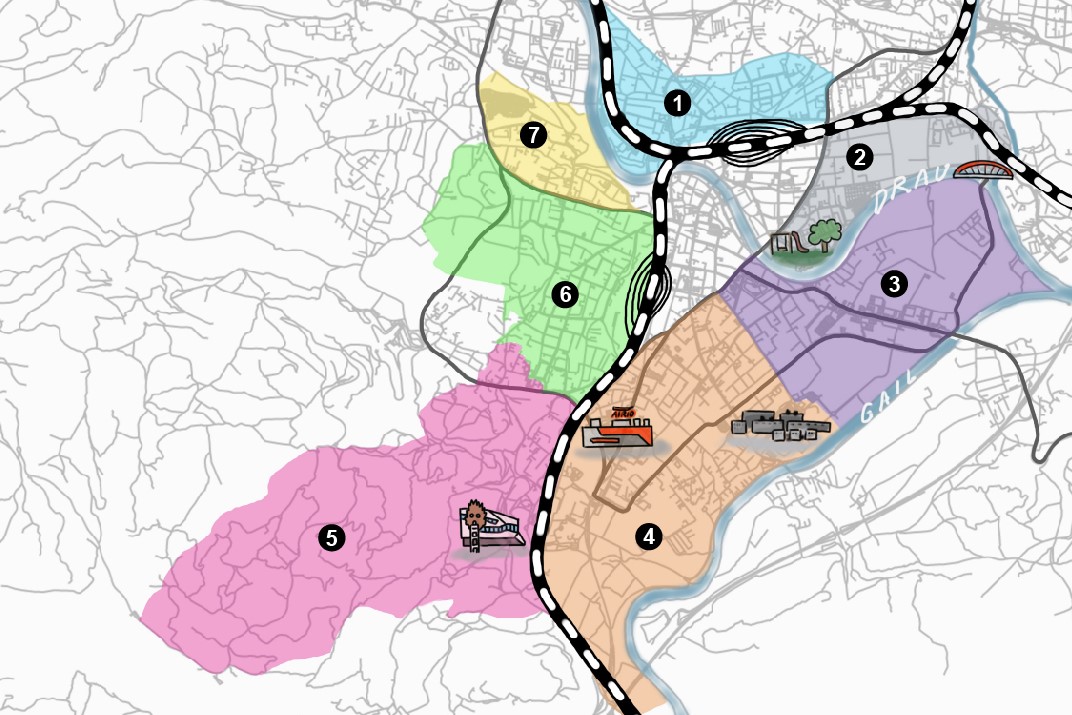 #1 Lind | #2 Seebach-Wasenboden | #3 St. Agathen und Perau |
#4 Auen | #5 Warmbad-Judendorf | #6 Völkendorf | #7 St. Martin
LIND
The district of Lind (#1) lies north of the main train station and is among Villach's largest neighborhoods. Lind is a popular place to live - the city center can be reached by foot in only a few minutes and everything you need for daily life, such as supermarkets and pharmacies, can be found in the immediate area. In addition, in Lind there is a preschool, an elementary school, and a middle school, as well as a professional business high school (HAK & HASCH), Villach's sports stadium, and a sports hall. The neighborhood is home to many 19th century villas, which are very visually appealing, and the mix of old and new buildings has a special charm.
What's more, one of Villach's most important tech companies, LAM Research, is located in Lind right near the Drau River.
SEEBACH-WASENBODEN
Seebach-Wasenboden (#2) is another of Villach's neighborhoods that is very close to the city center and the Drau. This area offers residents a local train station (Villach Seebach) as well as many supermarkets.
"Auf der Tratten" Preschool is located in this neighborhood and Khevenhüller Elementary School, which offers a bilingual German/English track, isn't too far away in the city center. The Rohr-Kaserne military barracks, Villach's Federal Police Headquarters, and the large central cemetery (Zentralfriedhof) are located in Seebach-Wasenboden. Traveling circuses often set up their tents in the Wasenboden recreation area, and for those who want to do sports or simply relax in nature there are many places along the river to take walks, ride a bike, or try out a halfpipe at the skatepark. Young children also love the Wasenboden recreation area because Villach's largest playground is located here.
SANKT AGATHEN UND PERAU
In Villach's southeast corner is the St. Agathen and Perau (#3) neighborhood, which has a large range of great shopping opportunities. In addition to the Cineplexx movie theater and the V-Club disco with adjoining V-Bowl bowling alley, there is also the Neukauf shopping center, which has all the shops you need for your daily needs. Besides this, there are sports shops, clothes shops, home improvement stores, equestrian supply stores, discount shops, and several restaurants. There are also two preschools in this neighborhood - the private preschool Purzelini-Kindernest and the public preschool Kindergarten Villach Perau.
AUEN
The Auen (#4) neighborhood is the second largest in Villach and is located southeast of the city center between the Drau and Gail rivers. Auen is especially popular with expats and its population is growing. In addition to lots of new construction and many single-family homes, Infineon Technologies Austria, Villach's largest employer, is based here. Auen is home to Villach-Auen Middle School and a technical high school (HTL Villach), not to mention Atrio, the city's largest shopping mall. Several car dealerships and wholesale stores are also located in Auen.
JUDENDORF UND WARMBAD
The adjacent neighborhoods of Judendorf and Warmbad (#5) are among Villach's most historically interesting areas, and offer a rural quality of life right near the city center. Warmbad is Villach's local recreation area and has family-friendly walking and hiking trails, a fitness trail, and the "Maibachl" thermal pool. The area was popular even in Roman times, which is why there are all kinds of historical points of interest to discover, such as the old Roman road "Römerweg" and the Napoleon Meadows with burial mounds. Warmbad is also known far and wide for its large Thermal Spa Resort, which has a historic health resort, a family spa and numerous tourist shops, a private clinic, the Warmbad Riding Stable, a park with tennis courts, the Carinthian Tourism School, and the Warmbad Professional Tourism School (FBS). In Judendorf you can find the Genottehöhe, which is an amazing overlook point with a view over all of Villach. There are shopping opportunities right nearby and the Atrio shopping mall is not too far away. In addition, one of the International Daycare Centers is located in Judendorf, which offers not only daycare but also preschool and kindergarten programs for children.
VÖLKENDORF
This quiet neighborhood is especially popular with families and is located west of the city center. A public preschool, Sonnenstrahl private preschool, an elementary school, a middle school with an IT focus, and a vocational school can be found in Völkendorf (#6). There are also several doctor's offices in this neighborhood, ranging from general practitioners to skin doctors. In addition to hiking trails and bike paths, there are also lots of places to go and relax - the area near the St. Johanner Kirchale church is particularly peaceful and you can enjoy a unique view of the surroundings. Another great find in this neighborhood is the gas stationof the City of Villach, where you can fill up with the cheapest tank of gas in the city! (Check online for up-to-date prices.) Villach's Stadthalle, a multifunctional sports and event area, is also found in Völkendorf. The Stadthalle is especially popular with ice hockey fans during the ice hockey season, but ice skating for the public and for school classes are also offered, and concerts and large events are also hosted here.
SANKT MARTIN
St. Martin (#7) is another of Villach's neighborhoods whose growing infrastructure and population have led to an improved quality of life, and here you can find everything you need for day-to-day living. In addition to two preschools (one run by the City of Villach and one run through the Catholic church), there is also an elementary school and Gymnasium St. Martin, an academic secondary school which offers a bilingual German/English track. Beautiful parks, a sports center, a large playing field, a fencing hall, a motor skills park, and several public playgrounds help ensure that you'll feel a genuine sense of well-being in St. Martin.
So whoever wants to live close to the city center without living right downtown might want to check out one of these neighborhoods. In our next blog post we'll introduce you to some other areas around Villach that are a bit farther away from the city center.
"VILLACH - A CITY OF NEIGHBORHOODS" BLOG SERIES:
---