living
•
reading time: 10 min
•
publication date: 20.06.2021
VILLACH'S SUBURBS
Kärnten Werbung | Franz Gerdl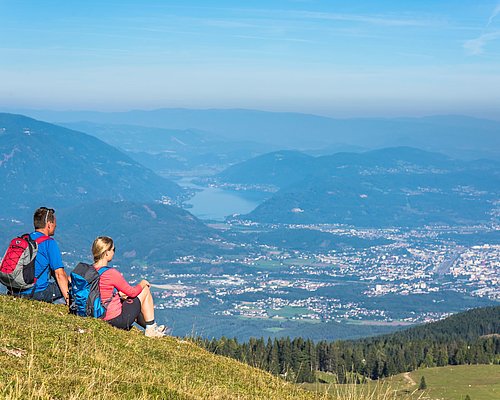 Welcome to our last expedition through the City of Villach and its neighborhoods. Since we learned about the downtown and the neighborhoods surrounding the city center in the last two posts, today we will explore the small towns on the outskirts of Villach. Let's start in the north of the city.
© OpenStreetMap-Mitwirkende | Stefanie Kaiser
#1 Fellach | #2 Vassach | #3 St. Leonhard | #4 Landskron | #5 St. Magdalen |
#6 St. Ulrich | #7 Drobollach und Egg | #8 Maria Gail | #9 Federaun
FELLACH
Fellach (#1) is a village on Villach's west side. In addition to a public preschool and elementary school, there is also a private Waldorf preschool and Waldorf school, an after-school care club, and a nursing home here. Fellach, a large part of the city composed of the neighborhoods of Obere Fellach and Untere Fellach, is especially loved by families. There are many shops for all your daily needs, beautiful walking paths near the Drau, and inviting playgrounds, such as the modern Kinderspielplatz Fellach which has equipment for playing and climbing, swings, and a playing field.
VASSACH
Vassach (#2) lies in the north of the city and is made up of the neighborhoods of Großvassach, Kleinvassach, Gritschach, Essach, Zwischenbergen and Blas. This town gets its name from Lake Vassacher See, where all who seek rest and relaxation can come and swim for free. Vassach is one of the more rural areas of Villach, though more people have been moving there in recent years. Peace and quiet and nature are, however, still guaranteed. Children from Vassach attend the school Volksschule 10.
The Oswaldiberg is also found In Vassach, which is a popular destination for long walks. The Oswaldibergrunde circular walking trail is passable all year, and wild mushroom lovers can get lucky there in summer and fall.
ST. LEONHARD
The town of St. Leonhard (#3) is also in the northern part of Villach and is the next town over from Vassach. In addition to many single-family homes, residential buildings like the kind in the "Neue Heimat" neighborhood are typical for this part of the city. After WWII, three-story apartment buildings were built here, like townhouses right on the street, and which still today characterize the look of the neighborhood. In St. Leonhard there is a preschool, two large supermarkets, a center for physical therapy and psychotherapy, a beauty salon, and several restaurants. St. Leonharder See Lake is also found in this neighborhood, which, however, does not have any public access. Also found in St. Leonhard are the Petschnigteich Pond, which is preserved as a natural monument, and the historic Villach-St. Leonhard parish church, which was first documented in 1399.
© RVT
LANDSKRON
Landkron (#4) is the largest and most populated village in Villach. Landkron is known beyond the borders of the city above all for the historic Landskron Castle, from which you can not only enjoy a fantastic view, but which is also home to the Monkey Mountain and Eagle Arena tourist attractions. Landskron has been part of the City of Villach since 1973 but has maintained its own town center. This is also one of the reasons why there is an unusual amount of infrastructure in Landskron, which is useful for daily life. For example, here you can find a preschool, two elementary schools, two middle schools, grocery stores, a post office, playgrounds, and a lot of natural beauty. Those who love sports can stay active in the Landskron Sports Center, by playing tennis, or in the aeraone Mountain Bike skill center on Kumnitzberg. In the nearby neighborhood of Gratschach you can find Gut Landskron, which has a small farm store selling eggs from their farm as well as all kinds of regional foods.
ST. MAGDALEN
Sankt Magdalen (#5) lies in the north of Villach, and is a very quiet neighborhood while at the same time being the academic and innovative heart of Villach. The University of Applied Sciences and the Institute for Economic Development (WIFI Villach) are found in St. Magdalen, both of which are important educational institutions in the city. Numerous research facilities and technology companies like Intel and Silicon Austria Labs can be found in Vista - Villach Science and Technology Area.
A sports center with a playing field and Carinthia's main mail distribution center are also located in St. Magdalen.
In this neighborhood there is a primary school and a newly renovated preschool, and in addition to the idyllic Magdalenen See Lake there is also Lake Grünsee, Lake Fleetsee, and Lake Silberne See (which shouldn't be confused with Lake Silbersee, which can be found in the neighboring village).
ST. ULRICH
St. Ulrich (#6) is a small villach 5 km east of downtown Villach. On the east and south sides this neighborhood is bordered by the Drau and Lake Silbersee, which is a popular public lake where you can swim for free. In addition to facilities for playing beach volleyball, ping pong, tennis or bocce ball, there is also a fitness center and a restaurant at this lake.
DROBOLLACH UND EGG
The neighborhoods of Drobollach and Egg (#7) are located on the north side of the picturesque Faaker See, where you can also find the public Panorama Beach Drobollach. This beach was completely modernized in 2020 and has a large sunbathing area, a water slide, playground equipment, and an inviting restaurant. European Bike Week takes place every September on Faaker See and attracts tens of thousands of motorcycle riders to the region. Faaker See is in general a super popular vacation destination for people from all over, and has fantastic and comprehensive tourist infrastructure: in addition to the lake where you can also participate in all kinds of water sports and activities, there is also a new Pump Track, tennis courts, a soccer golf course, and a high ropes and archery course, among other things. And the wonderful panorama with the turquoise waters of the lake and Mittagskogel Mountain in the background is the most photographed view in the Villach - Faaker see - Ossiacher See region.
MARIA GAIL
Maria Gail (#8) and the smaller neighborhoods of Turdanitsch and Tschinowitsch are found along the Gail River in the southeast of Villach, around 4 km from the city center, and are located right next to the Faaker See highway exit. In Maria Gail there is an elementary school, a preschool, and an after-school care club. The parish and pilgrimage church in Maria Gail was first mentioned in 1136 and is one of the most treasured sacred buildings in the country. In Maria Gail there is also a large playing field as well as the Gail River, the largest tributary of the Drau.
FEDERAUN
If you walk south from Warmbad you will arrive in the village of Federaun (#9). The path that leads you there is a former Roman road, which was then called Via Julia Augusta, and today is a wonderful hiking trail that leads towards the villages of Oberfederaun, Unterfederaun, Oberschütt, and Unterschütt.
But it's not only the road which remains from Roman times: on a steep cliff above the town you will find the Federaun castle ruins, and even the name Federaun is Roman. You simply have to discover this ancient side of Villach!
Other small villages around Villach that are part of the county of Villach:
Goritschach, Gratschach, Gritschach, Heiligengeist, Mittewald Faaker See, Mittewald Villach, Möltschach, Oberwollanig, Rennstein, Unterwollanig, Serai, and St. Niklas.
With this final post about the villages and neighborhoods on the outskirts of Villach, we hope that we have given you a good overview of the various living options around the city so that you can more easily make the decision about which place to call home.
"VILLACH - A CITY OF NEIGHBORHOODS" BLOG SERIES:
---