living
•
reading time: 8 min
•
publication date: 28.05.2022
WHAT'S NEW!? #15 - VILLACH IN JUNE 2022
Karin Wernig
The welcome2villach team collects the most important news from around Villach in a compact, monthly "News Story", with links to more information. In June, Villach's residents will be invited to participate in urban development work, new (and free!) lake access will be created just in time for summer, and we're also looking forward to summer in Villach's city center and a number of cultural events.
Closing out the city's books: Contrary to all expectations, the city was able to close out the 2021 budget year with a slight surplus of €4.6 million. €29 million of the total €243.2 million budget was invested in projects that will give a strong boost to the local economy and quality of life. You can read about them all here.

Help create Villach's future: The city wants to develop a "Local Development Concept" (Örtliches Entwicklungskonzept, or ÖEK for short) together with residents of Villach by 2025. Questions such as "Which areas will remain green permanently?", "Where should we build?", or "What flood protection measures are needed?" will be defined. Every Villach resident will be invited to bring suggestions into the process.

Villach is THE paddle city: On the weekend of May 20-22, the SUP Alps Trophy and "THE LAKE ROCKS" Festival took place at Faaker See. Athletes and hobby paddlers from all over Austria and neighboring countries competed against each other in different categories. But of course it's not only possible to paddle on Faaker See - water sport enthusiasts can find numerous opportunities in and around the Villach region to canoe, kayak, or stand-up paddle.
© Dagmar Taucher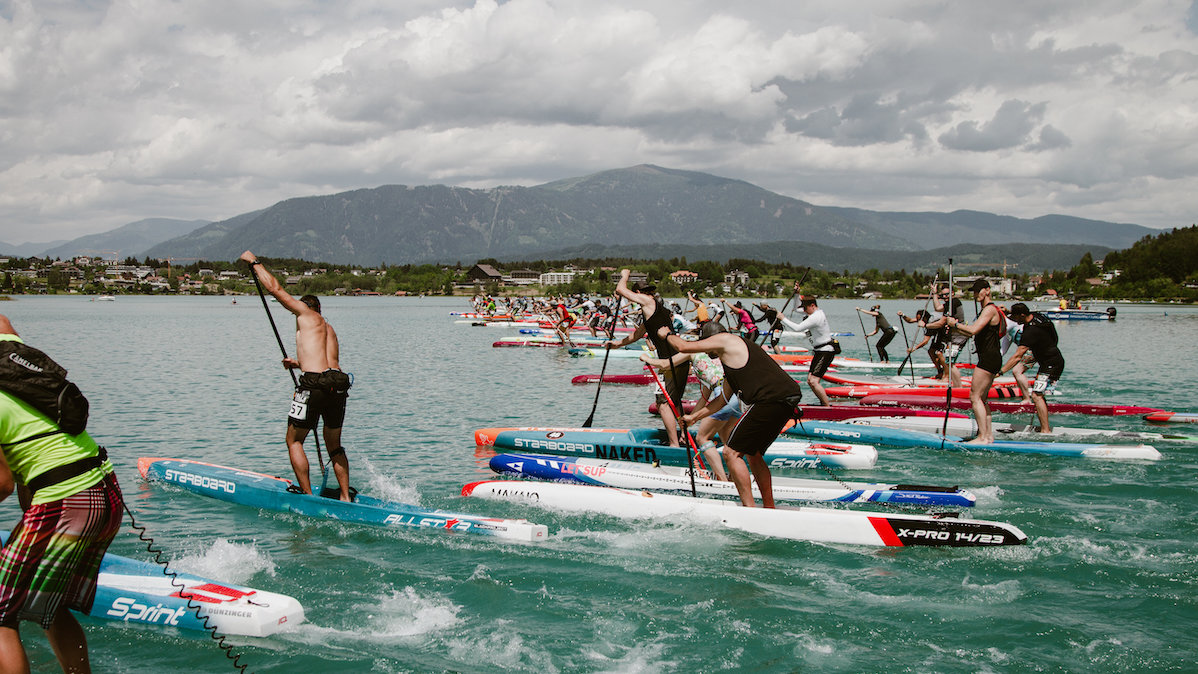 Carinthia's most beautiful living room is open again: The popular Summerfeeling event series organized by City Marketing is offering a colorful program again this year. We're looking forward to living room concerts in local food service establishments, the Draupuls multimedia water show, a bbq festival in the garden of the Parkhotel, the Walk-of-Art on Lederergasse, the Alps-Adriatic Ceramic Market, and of course the highlight of this summer: Villach's Kirchtag city fair! All events and dates are summarized here.

Summer can come: The summer bus is making its rounds again this year and invites you on free trips to Faaker See. This is easier on the nerves than looking for a parking spot, and of course also helps the environment. In order to use the summer bus for free you need the summer bus pass. These can now be picked up at the Citizens' Services office in Villach's City Hall, or in the current edition of the city newspaper (Stadtzeitung, 06/2022). More information about travel times and stops is available online.
© Kirchtagsverein | Martin Hofmann
New lake access for Villach: The City of Villach has striven for years to give people free access to the region's swimming lakes. After the Panorama Beach in Drobollach, Lake Silbersee, St. Andrä on Lake Ossiacher See, the Tschebull sunbathing lawn, and Lake Vassacher See, the next step is at Lake Magdalenen See, where there will be free access to the former "Zellulosebad" beach year round. The modernization work will begin next spring with an accessible toilet facility, new changing rooms, a children's play area, a bocce ball court, and a charging station for e-bikes.

Self-defense is the best defense: The city is launching a series on crisis prevention and is providing information on how to prepare for emergencies. Upcoming issues of the city newspaper will provide information about which food you should have in stock at home, but also what the city itself is doing to be prepared in the event of a blackout or other extreme situation. There are also practical tips and tricks online.
Villach's public transportation campaign: As announced in April, there will be a comprehensive bus schedule for all bus lines in Villach beginning this summer. All buses (except lines 11 and 5175 - these are still part of further developments) will run every half an hour during peak times in the morning (6:30 - 8:30 a.m.) and evening (4 - 7 p.m.), and every hour the rest of the day. However, what is settled is that all bus lines will run longer every evening, thus providing more time to reach connections.

Fit through the summer: Beginning mid-June, everyone can take part in "Bewegt im Park" ("Movement in the Park"), a diverse exercise program in public spaces. At the weekly classes (no registration needed) you can do something for your own health and also get to know new people at the same time. Participation is free, the classes take place in public green spaces, and happen rain or shine! All information about exact times and places can be found here.
© Oskar Höher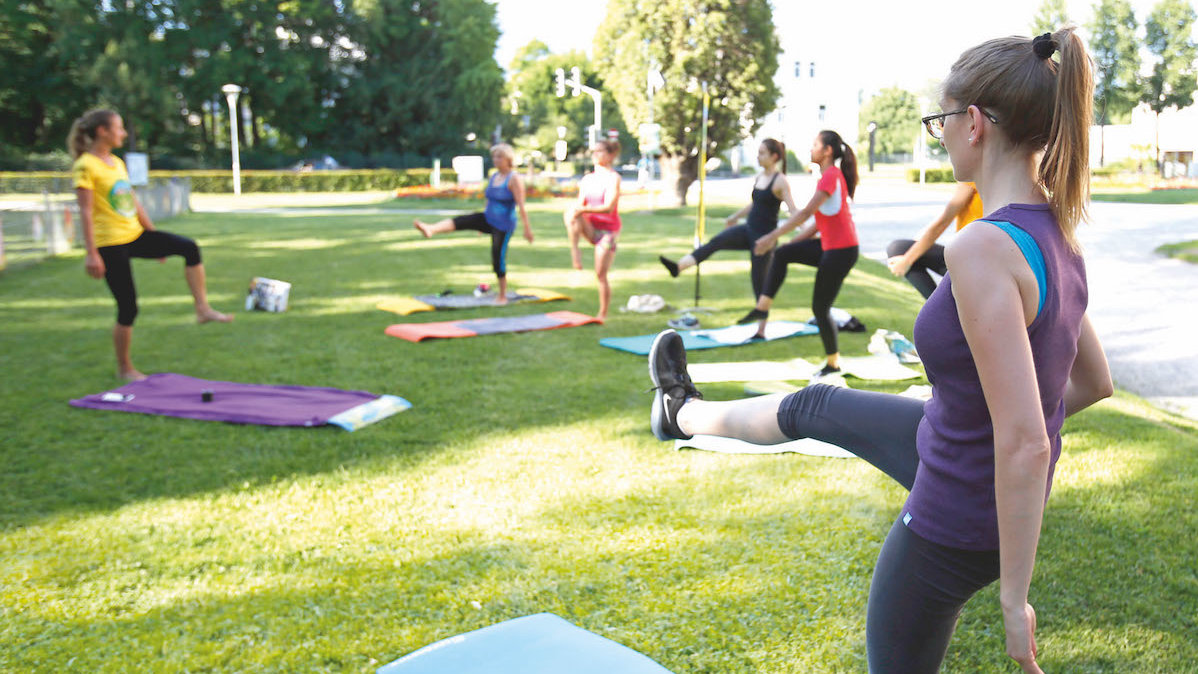 Funding from the Federal Ministry: The City of Villach submitted two projects to the Federal Ministry last year, both of which were immediately successful. The first one was the LoRaWAN water meter, which has already been installed in quite a few houses, and which shows a household's water use online and in real time. The second one was the Road Condition Survey, which records and evaluates the city's roads and streets with a modern measuring vehicle. Based on this data, the timing of road work and improvements should now be improved and optimized.

Events in June: Villach sings! Villach residents are invited to sing with the city's choirs on June 11 from 10 a.m. - 12 p.m. The final program of the city's "Lesestadt" children's literature festival, which had to be postponed due to the pandemic, is happening in the Alpen-Adria-Mediathek. Nöstlinger Prize winner Michael Roher will present his latest books, "Kali kann Kanari" and "Die Geschichte von Flora, der Klimapiratin" on June 21 at 3 p.m. The Alps-Adriatic Ceramics Market will take place in Villach's city center beginning on June 26, and all kinds of concerts and comedy nights will happen at Kulturhof:keller.
---