investing
•
reading time: 5 min
•
publication date: 25.04.2022
TECHNOLOGY PARK VILLACH - THREE PILLARS FOR THE FUTURE
TPV | Martin Steinthaler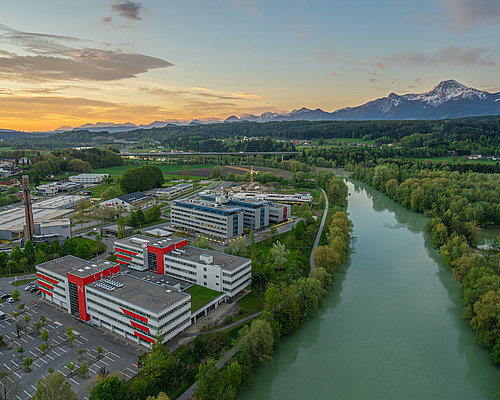 More than 20 years ago, on the initiative of the City of Villach, a place was created where the connection and networking of education, training, research, development, and companies is promoted and lived to this day.
An international-oriented high-tech location was created on 27 hectares of business development land directly on the Drau River, where 40 companies with more than 700 employees work and where around 1000 students and 70 apprentices learn, work, and teach together.
WHERE DEVELOPMENT, SCIENCE, AND EDUCATION GO HAND IN HAND
One connecting element has been paramount since the beginning: the three-pillar model consisting of research & development, training & further education, and business. Not only does this facilitate the continuous exchange between people and support the pooling of strengths from different divisions and industries, but a framework for constructive and professional cooperation is also created.
The foundation for an economic and research location was laid in 2001 when the Carinthia University of Applied Sciences (CUAS) and CTR Carinthian Tech Research moved into tpv Technology Park Villach when building "T01" opened.
In the years that followed, more and more companies, research institutes, and education and training centers moved onto the grounds of tpv. And the modern student residence STUWO has offered accommodation to 110 Austrian and international students since 2012.
INTEL and KAI were followed by WIFI Villach, the CUAS Science and Energy Labs, the company T.I.P.S., as well as GPS Kärnten (Gemeinnütziges Personalservice Kärnten GmbH). The High Tech Campus Villach opened in 2014, which is where Silicon Austria Labs, the build! Start-Up Center, and SAC Silicon Alps Cluster have settled down to business.
Work has been progressing on the second construction phase of the HTCV since March 2021, and most of the space will be used for office and laboratory spaces for SAL Silicon Austria Labs GmbH.
A LOOK INTO THE FUTURE OF tpv

The Technology Park Villach will continue to grow in the future, and in 2022, the City of Villach will begin construction on a new preschool for four groups of children.
In keeping with the location and focus of the site, there will be a separate research facility for children that is unique in Austria, which will focus on MINT subjects (mathematics, computer science, natural sciences, and technology). The "mini educational lab" will not only be available to children in Villach, but to all children in Carinthia.
FACTS & FIGURES (2021):
1999 Urban Development Competition Technology Campaign
2000 Groundbreaking for building T01
2001 Opening of tpv
2013 Groundbreaking of HTCV
2021 Start of construction on building "BA02"
currently 40 businesses are located on site
approximately 1,800 employees, students, trainees on site
---