learning
•
reading time: 6 min
•
publication date: 21.07.2021
CARINTHIA UNIVERSITY OF APPLIED SCIENCES - AN INSTITUTION FOR THE FUTURE
Stadt Villach | Karin Wernig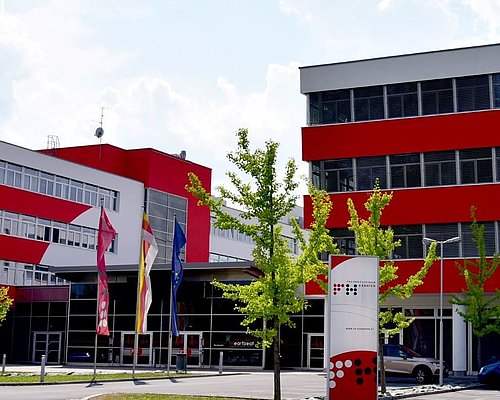 After the founding of the Carinthia University of Applied Sciences (CUAS) more than 25 years ago, 70 young people in two degree programs (electronic engineering and civil engineering/project management) were the first to begin their studies on the campus in Spittal on October 2, 1995. Already one year later students began studying at the campus in Villach. Now with four campuses, thousands of Austrian and international students have enjoyed a future-oriented education at CUAS, an institution which has its finger on the pulse of progress.
A RANGE OF STUDY OPTIONS THAT LEAVES NOTHING TO BE DESIRED
CUAS is a dynamic and dialogue-oriented university for applied sciences, which has an international outlook while being rooted in the local region. It focuses on the fields of health sciences and social work, technology, and business. Full- and part-time employees, as well as guest lecturers from business and industry, teach in more than 40 degree programs. Program offerings are aimed at both full-time students and those who want to study part-time. Other post-graduate and continuing education courses are also offered at CUAS campuses.
LIVING AND STUDYING AT CUAS'S VILLACH CAMPUS
There are currently 20 bachelor's and master's degree programs offered at the Villach campus of CUAS, and the focus is on Engineering & IT and Management. A particular advantage for students in Villach is STUWO student housing, which is right next to the campus.
HONORED FOR THE THIRD TIME
The Villach campus was distinguished in 2014, 2017, and again in 2021 as a family-friendly university. The range of classes and learning activities that can be done from anywhere, as well as those that can be done at any time, particularly helps part-time students better balance family life and their studies.
RESEARCH AND DEVELOPMENT AT CUAS
Research and development play an important role in transforming extensive university-level knowledge into practical application solutions, and support cooperation between companies and universities. There are three large research institutes at CUAS in Villach, in the fields of industry 4.0 (CiSMAT), smart materials (CIME), and gerontology (IARA). In addition, there are more than 20 laboratories for students on campus, where future-oriented classes and practice takes place.
© FH Villach
FACTS & FIGURES:
1993: founded
1995: first students on the campus in Spittal an der Drau
2002: opening of the campus in Feldkirch
2010: opening of the Science & Energy Labs at the Villach campus
2014: opening of the Josef-Ressel Center
2020: 25 years of CUAS
STUDY AT CUAS AND LIVE IN VILLACH?
BESIANA CAN TELL US MORE ABOUT WHAT IT'S LIKE:
---