investing
•
reading time: 7 min
•
publication date: 24.12.2021
A LOOK BACK AT VILLACH'S COMPANIES – 2021 WAS A SUCCESSFUL YEAR
Infineon Austria | Johannes Puch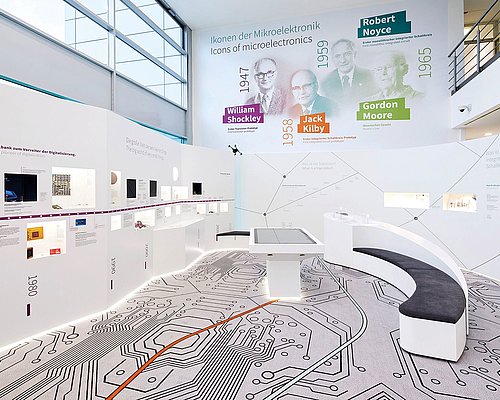 In spite of another year amid a global pandemic, the City of Villach and the companies that call the city home were able to achieve great success. In this year-end review all the major awards, investments, and advancements will once again be presented.

It was "Ready for Mission Future" in the fall as Infineon opened its high-tech chip factory for power electronics on 300-millimeter thin wafers. With an investment of €1.6 billion, Infineon has strengthened and secured the global power electronics supply. Europe's current market share of the global semiconductor market is 10% and Infineon's main goal is to double this to 20% by 2030. But Infineon Technologies Austria AG has another reason to celebrate: their 50th anniversary celebration is a great reason to look back on an eventful and innovative company history.

The LKH Villach hospital was the first Austrian hospital to be distinguished with the WHO's "European Hand Hygiene Excellence Award" for outstanding achievement in the area of infectious disease prevention. Furthermore, they were able to celebrate a special anniversary:130 years of healthcare.

The Austrian company KELAG Energie & Wärme GmbH has provided heating services in the entire country for over 50 years. This year they were given an extra special award for this: KELAG was distinguished as the "Supplier of the Year 2020" by the global multi-technology company 3M. This multinational company can always rely on KELAG, a Carinthian business, in all energy-related issues, and has been able to for more than 15 years.

As of this fall and winter there are now three additional educational opportunities at the Carinthia University of Applied Sciences: master's degree programs in Industrial Power Electronics and Applied Data Science, and a new bachelor's degree in Digital Tax & Accounting. The international campus of CUAS in Villach continues to grow, as does the number of businesses in tpv - Technology Park Villach. The City of Villach has responded to this positive development and will establish a new on-site preschool that will have its own research lab. Construction is set to begin in 2022.

Since the beginning of this year the City of Villach has invested around €1.3 million in digitalization initiatives in order to be able to offer residents more comfort and services. There are already more than 100 online forms available on the city's e-government portal, with which you can simply and easily accomplish bureaucratic affairs from home.

Reliable infrastructure is the key ingredient for successfully attracting new companies to the region. The City of Villach recognized this several years ago and began to advocate for a 220/110 kW power grid support system, which was put into operation in 2021. The new system connects the 110 kW grid in the Villach region with the Austrian transmission grid, and thus also with the European interconnected power grid.

The groundbreaking for the expansion of the local waste collection center (ASZ) and recycling center of Villacher Saubermacher took place in the spring, and it has been running at full capacity again since September. The ASZ plays an important part in Villach's efforts to be more sustainable. The sought-after and ecological ReUse Boxes and Bags, as well as the containers for used cooking fats, are collected here. The used oil is then turned into biodiesel by a partner company.
---