living
•
reading time: 5 min
•
publication date: 30.05.2021
WHAT'S NEW!? #3 - VILLACH IN JUNE 2021
Stadt Villach | Karin Wernig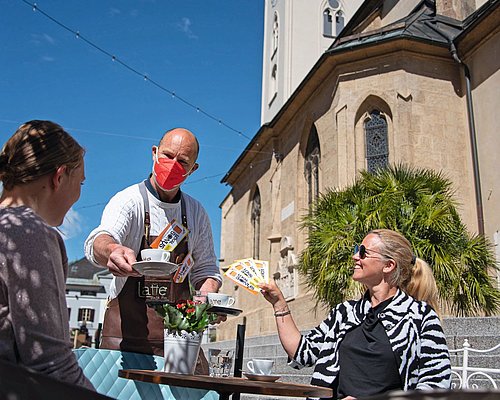 The welcome2villach team collects the most important news from around Villach in a compact, monthly "News Story", with links to more information. In June there is news about the reopening of the food service industry, sustainability in Villach, and a review of the summer's cultural events!
After having been closed due to COVID-19 since last November, the food service industry (restaurants, cafés, etc.) was allowed to reopen on May 19th under strict conditions. Small events are also possible again. To visit a food service establishment or go to an event you must follow the so-called 3-G Rules: you must be either vaccinated ('geimpft'), tested ('getestet'), or have recovered from the virus ('genesen'). The City of Villach has taken the lead on providing more ways to get tested and has set up new testing centers on the Hauptplatz and the Nikolaiplatz. Here you can get tested from Monday - Friday 9 a.m. - 5:30 p.m. and Saturdays from 9 a.m. - 12:30 p.m. - no appointment needed!

Villach's LOKAL BONUS is back. Receipts from purchases made or services paid for in the Villach urban area can bring you cash, in the form of vouchers which can be used in Villach's restaurants, cafés, or other food service establishments. Up to 25% (maximum of €40) of the value of each submitted receipt will be refunded. It's this simple:


Take a picture of or scan any receipts for purchases or services paid for between June 1-15 and upload at www.villach.at/lokal-bonus.

Confirmation will be sent by email sometime after June 18th and the vouchers can then be picked up between June 21-July 2. Vouchers are valid until August 31st.

Receipts from the following businesses, services, or products do not qualify: doctors, pharmacies, speculative trading, continuing contract services, supermarket and do-it-yourself chains, furniture stores, food service establishments (restaurants, etc.), gas stations, casinos, betting shops, prepaid cards, gift certificates, and tobacco products.
© Stadt Villach
The statement of accounts for the 2020 budget year shows that though the coronavirus crisis made a deep hole in Villach's city treasury (€17.2 million in lost revenue), the city has been able to make up €10 million of that by implementing rigorous savings measures. In addition, the city, in a cooperation among all parties, has been able to invest a total of €17.6 million into preschools, schools, and infrastructure improvement projects.

Villach lives its environmental ideals and has created a new 4,500 m2 recreational area, a "green oasis" for young and old, in the Perau neighborhood. In addition to quiet areas and grassy areas for playing, there will be a covered space for activities like yoga or Zumba. Work on this green space will be started as soon as possible, and the longer-term plan is that a similar area will be built in each of Villach's neighborhoods.

The free electric city bus (Ecitybus) has been running in Villach since last year and will run at least until the end of this year. Electric, handicapped accessible, and with zero emissions, the bus has space for 33 people and its route covers the entire downtown area. The organizers of this service are currently evaluating whether the bus could also cover other downtown routes and thus become more interesting for city residents.
The electricity and district heating provider KELAG Energie & Wärme has been distinguished by the multinational technology company 3M as "Supplier of the Year 2020". This Carinthian company has proved itself to be absolutely reliable on all energy issues for more than 15 years.

Beginning on June 18th the new permanent exhibition in Villach's Rathaus, "Drautöchter", will be open for visitors. The stories of women in Villach will be presented on 25 display boards. The curator Alexandra Schmidt did meticulous research on the life stories of women to find those who had an impact in Villach, and here gives a glimpse into the influential lives of resistance fighters, artists, business women, and politicians.

We can finally start looking forward to attending events again in the coming weeks: As of June 16th the amazing fountains in the Drau River will start again, and the large "Draupuls" show will take place on June 30th at 9:30 p.m. On June 5th & 6th the Theater Pforzheim ballet company will be visiting Villach, and the soloists from the Munich Philharmonic will play on June 27th. The Stadtkino cinema has been open again since May 19th - beginning on June 2nd the K3 Filmfestival will happen there, during which time 36 short and long films will be shown. Villach's "Sommerfeeling" program is back this summer, and from June 30th-July 7th the popular ceramics market will take place. With the motto "Freitracht trifft Honky Tonk" ("Traditional dress meets honky tonk"), musical performances and traditional dress fashion shows will take place beginning on July 2nd, hopefully with lots of visitors also wearing traditional Austrian clothes.
---