living
•
reading time: 5 min
•
publication date: 25.05.2018
ONLY ONE HOUR AWAY: QUICK TRIPS FROM VILLACH
RVT | Slovenia Info | Jost Gantar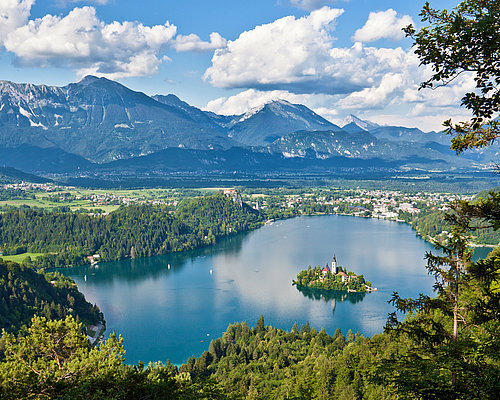 Villach is the perfect starting point to explore the Alpe-Adria region. As a primary transportation hub for Austria, it is easy to explore the tri-region of Austria, Italy, and Slovenia. While Villach has its own list of things to do, it is always nice to go on a day trip. Use Villach as your base to explore the nearby mountain scenery, beautiful lakes, and historical sights of the region. You won't be disappointed by these amazing national and international sights that are only one hour away!
LAKE BLED, SLOVENIA - 50 MINUTES FROM VILLACH
Located in the neighboring country of Slovenia, Bled is a town that looks like something from a fairytale. Famous for its lake, island, castle, and delicious cake, Bled is a perfect way to spend an afternoon. Visit the only island in Slovenia by taking a traditional "pletna" boat to the Assumption of Mary Church. Legend has it that if you ring the church bell on the island, your wishes will come true!
MONTE LUSSARI AND TARVISIO, ITALY - 30 MINUTES FROM VILLACH
High above the Italian town of Tarvisio is the peak of Monte Lussari which offers amazing views of the eastern Alps. Enjoy the day walking around the small Alpine village and visit the Sanctuary of the Madonna of Lussari. Go for a hike on the picturesque Sentiero del Pellegrino (Pilgrim's Path) to reach the peak and village. Not interested in working up a sweat? Take a short 15-minute cable car ride from Camporosso to easily see the views. Monte Lussari is also home to the Di Prampero ski run which is a great skiing spot in winter.
MEDIEVAL CARINTHIA: FRIESACH AND HOCHOSTERWITZ - 55 MINUTES FROM VILLACH
Carinthia is home to many Austrian Medieval treasures including the impressive Burg Hochosterwitz and the Medieval town of Friesach. Located along the historic Transromanica route, it is possible to learn more about Carinthia's history while seeing these amazing Medieval sites. The town of Friesach dates back to 880 and still has its original moat and city wall. Hike to the ruins of Petersberg castle and explore some of the town's many religious sites. Nearby to Friesach is the impressive Burg Hochosterwitz which is a Medieval castle worth visiting. The castle is an outstanding stronghold with 14 fortified gates and location on top of 172 meters of Dolomite rock. Visit the castle museum and armory to learn more about Carinthia's Medieval times.
KRANJSKA GORA, SLOVENIA - 30 MINUTES FROM VILLACH
With stunning mountain scenery year-round, Kranjska Gora is one of the most famous mountain resorts in the region. Popular for skiing in winter and hiking in summer, tourists from Slovenia, Italy, and Austria love spending time in this scenic area. Kranjska Gora is also the perfect gateway to the Triglav National Park which is home to pristine lakes, waterfalls, lush valleys, and the Triglav mountain peak. Visit Kranjska Gora in winter to hit the slopes or to watch the world cup ski jumping competition. If winter sport isn't your thing, spend summer cycling through traditional Slovenian villages or hiking on its many trails.
There is so much to see within only an hour of Villach. In a short car ride, you can see amazing natural beauty and experience three different cultures. With two neighboring countries, there is even more to see in a two hour radius of the city. Not seeing your favorite day trip location? Let us know what you love to do in the comments.
Happy exploring!
---