living
•
reading time: 5 min
•
publication date: 10.06.2021
VILLACH'S LOCAL RECREATION AREA - DOBRATSCH NATURE PARK
Kärnten Werbung | Franz Gerdl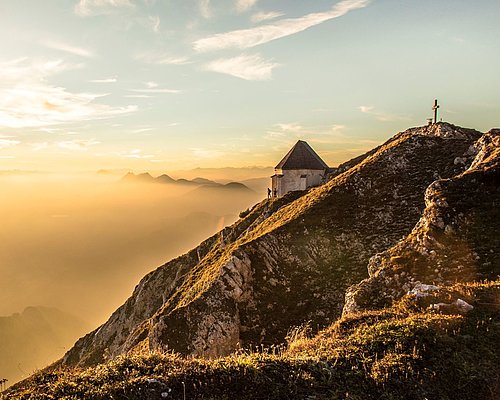 Dobratsch Mountain (originally from Slovenian), also called the Villach Alps and lovingly known as the "Hausberg" (Villach's "house mountain"), with a height of 2,166 meters and a rich diversity of flora and fauna, is a site of true natural beauty. Anyone who wants to breathe deeply and enjoy a fantastic view over Villach, or who is athletic and ambitious enough to climb to the peak, should definitely continue reading.
DOBRATSCH AND ITS HISTORY
This mountain was first mentioned in the year 1348 and the occasion was not joyful: an earthquake triggered a rockslide that brought 150 million cubic meters of rock and debris tumbling into the valley. This former landslide area is today's "Schütt" - a popular excursion and hiking destination and part of the nature park. In the 1960s the Dobratsch became a ski area and generations of Villach children learned to ski there.
With the establishment of the Nature Park in 2002 that time came to an end, however, and it wasn't only because of this that this project was first viewed critically. But today we know that sustainable or "gentle" tourism has particular advantages. The Nature Park offers education, rest and relaxation, regional development, and conservation, and this four-pillar concept has been very well received.
ARRIVE - LET GO - EXPERIENCE
Above the Villach Alpine Road, which is 16.5 km long and has seven hairpin curves with beautiful lookout points, you reach Parkplatz P11 - the last parking lot on Dobratsch Mountain. (The road is passable all year and you must pay a fee to drive on it from the middle of April to mid-November.) From there you are off into the Dobratsch experience, with playgrounds and adventure playgrounds, hiking and educational trails, the unique Alpine Garden and wildlife observation to enjoy. Whether easy walks or challenging hikes for experienced hikers, there is something for everyone. And on the diverse summer program there are also other activities like canoeing, guided hikes, and carriage rides.
LASTING ENJOYMENT
In addition to getting there with one's own car or motorcycle, more and more people are choosing environmentally-friendly alternatives. From May to October the Nature Park Shuttle makes the trip to the mountain every Wednesday and Saturday, and from June 20th - September 5th also every Sunday. Please remember how important it is to protect the animals and plants on Dobratsch Mountain, which is why you should always stay on marked trails and never leave any trash behind, so that future generations can enjoy this pristine natural paradise. There are, by the way, three mountain huts serving food and drinks on Dobratsch - Dobratsch Gipfelhaus, Rosstratten and Aichingerhütte. There is thus nothing standing in the way of an all-around successful visit to Villach's local recreation area.
© Kärnten Werbung | Franz Gerdl
---