learning
•
reading time: 4 min
•
publication date: 27.04.2022
SUMMER CAN COME - WITH THESE AWESOME RECREATIONAL ACTIVITIES FOR KIDS AND YOUNG PEOPLE
Stadt Villach | Adrian Hipp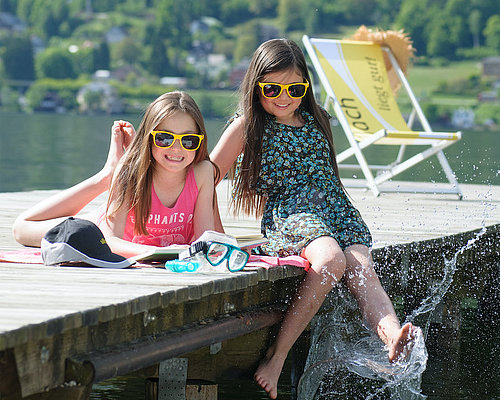 Every year, summer and the holidays that go with it are characterized not only by vacation, sun, and fun, but also by the difficulties that parents have finding childcare for their kids. The school vacation in summer lasts for nine weeks in Austria and not all parents can take time off from their jobs for this entire time, or count on relatives or friends to take care of their children.
For precisely these reasons, there is a wide range of cool recreational activities and summer camps for kids and teenages in Villach and the surrounding region. Whether focused on sports or on culture, lots of fun, action, and adventures are guaranteed.
VILLACH'S SUMMERTIME OFFERINGS
Experience nature close up during Adventure Week on the Taborhöhe
Whether a camp focused on English or math, a circus camp or an action camp, there will be plenty of fun here.
A summer camp designed by the campers themselves? It works at Creators Camp.
The many different camps of BAM Sommerfreizeit (Evangelical Youth of Carinthia & East Tyrol) offer true travel adventures for all age groups.
Golf Course Experience Classes for kids and teens from 6-16 years old at the Schloss Finkenstein Golf Club
The Austrian Water Rescue Center in Villach offers helper and rescue swim classes for kids 13 years and up, and junior rescue classes for kids age 13 and up.
All children between 3-8 years old who like to sing, make music, play, and dance are in good hands at the Musical and Creative Summer Week.
The Nature Experience Camp at this horse farm promises animal adventures.
Learn to dance like a pro at the Summer Dance Camp for everyone from 5-16 years old.
ASKÖ Villach is offering a tennis camp again this year. Information is available from Mag. Helmut Trojani at +43 664 135 43 72.
At the Villach Hockey Camp, training takes place with current and former goalkeepers and licensed youth coaches.
The Evangelical Church in Villach is offering an exciting Viking Camp this year.
All pony and horse lovers will get their money's worth during the Summer Pony Weeks at this pony farm. And their Special Test Intensive Camps are perfect for anyone who wants to prepare for special riding tests (Großes Hufeisen, Reiterpass, Reiternadel).

Local summer camp offerings are also being continually updated on the City of Villach's website.

VACATION OFFERINGS FROM THE CARINTHIAN INTERNATIONAL CENTER CIC
The CIC Summerkids program is a multilingual and multicultural recreational program for children aged 6-10 years old, and is organized by the CIC. The kids are accompanied by qualified English and German-speaking educators in playful and varied activities.

A variety of different camps are offered to accommodate various interests. You can find an overview here.
---