living
•
reading time: 4 min
•
publication date: 22.01.2019
5 ALTERNATIVE WINTER SPORTS TO ENJOY CARINTHIA
Stadt Villach | Karin Wernig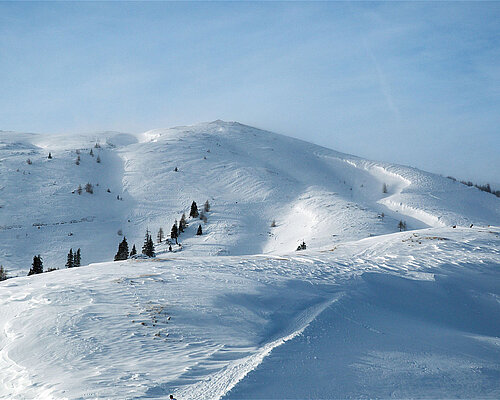 Winter in Carinthia is wonderful - snow-capped mountains, beautiful ice-covered lakes, and plenty of winter sports activities. With so much natural beauty, it is easy to understand why Carinthia is a popular winter holiday destination. Carinthia is known for its fantastic skiing options, but did you know there are also alternative winter sports to try? Seize the opportunity to make 2019 the year you experience Carinthia's winter paradise from a new point of view. Ascend frozen waterfalls, bike across frozen meadows, and maybe go for an adventurous ice dive - all of these things are possible in Carinthia.
1. ICE CLIMBING
For ice climbing enthusiasts, Carinthia is a top destination. After all, the Austrian Ice Climbing Championships take place at Hohe Tauern National Park. With ice climbing, you ascend frozen waterfalls, ice sheets, and glacier walls. Whether you are new to the sport or a professional, the region has a wide range of ice climbing routes. The Maltatal Valley offers some of the best ice climbing in Carinthia with frozen creeks for beginners and waterfalls for more experienced climbers. If you are interested in learning how to ice climb, consider the 28-meter high ice tower in Kötschach-Mauthen. This "Alpine Stake of Torture" is a famous meeting point for ice climbers and hosts ice climbing courses. Who knows, maybe once you are an ice climbing pro you might tackle all 40 of the frozen waterfalls in Heiligenblut am Großglockner. Enjoy the thrill of climbing ice, but remember - safety first!
2. FAT BIKING
Cycling isn't just for summer, it is possible to enjoy a ride on your bike during the winter too! With fat biking, the wheels are "fatter" so you are able to bike on slick surfaces such as snow. Riding on a fat bike means you can experience familiar mountain trails in any weather. The unique fat tires make it easier to ride over frozen roads, ice-covered lakes, and handle steep snowy curves. Over the past few years, fat biking has become one of the hottest trends in winter adventure sports and is now in Carinthia. The Weissensee Nature Park offers fat bike rental and guided winter tours. If you are interested in exploring more of Carinthia, take a look at the Fatbike Nockberge blog for more route ideas.
3. EISSTOCKSCHIESSEN
Eisstockschießen is known as "Bavarian Curling", but we like to think that Carinthians have put their own (ahem... better) twist on the sport. So, how do you play Eisstockschießen? Players slide the Eisstock over the ice aiming for the Dauben (targets). In Carinthia, this popular sport is played all year long with more than 147 active Eisstockschießen clubs in the region. The sport has even advanced so much in Carinthia that it has its own version of the Eisstock called the "Kärntner Stock". If you would like to join in on the fun, try your hand at the sport at the Weissensee Nature Park or one of the ice arenas in the region.
4. SNOWSHOEING
Be enchanted by Carinthia's winter wonderland with an idyllic snowshoe tour. With snowshoes, it is possible to hike through peaceful landscapes even in winter. In Carinthia, there are lots of options for snowshoeing from vigorous routes for thrill seekers to easier paths for first-timers. The Visit Carinthia website has an excellent overview of the snowshoeing options available in the region. If you are interested in snowshoeing in Villach, sign-up for one of the region's free guided snowshoe tours.
5. ICE DIVING
Did you know that the lake Weissensee is Europe's largest constantly frozen ice surface? The size of the lake and its pristine ice makes it the perfect destination for ice diving. Join an experienced team of divers as you plunge into the icy lake and dive beneath a layer of ice that can be up to 40 cm thick. Explore the underwater world that many people never have the opportunity to see. Due to its popularity, ice diving is in high demand in Carinthia, so be sure to hurry and reserve your spot for 2019.
---