living
•
reading time: 3 min
•
publication date: 18.08.2020
"LOKAL BONUS" SUPPORTS SHOPPERS & VILLACH'S ECONOMY
Stadt Villach | Karin Wernig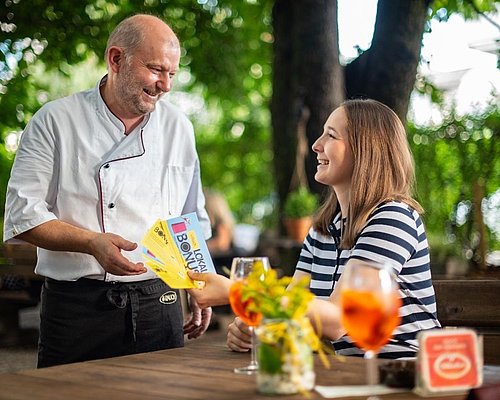 In a new City of Villach initiative meant to stimulate the local economy, anyone who buys from shops in Villach beginning on August 19th will receive gift certificates valid in Villach's restaurants, bars, cafés, and ice cream shops.
After the success of the "City-Gutschein-Förderung" project in May, the city government decided to create another stimulus plan that would help counter some of the negative effects that COVID-19 has had on the local economy. According to Mayor Günther Albel, the city has allocated €150,000 for the "LOKAL BONUS" initiative, a project which will have a double positive impact: it encourages people to spend money in local shops by rewarding them with gift certificates, and when people redeem these gift certificates at any local restaurant, bar, café, or ice cream shop, the city reimburses these establishments from the "LOKAL BONUS" fund.
HERE'S HOW IT WORKS:
After you make a purchase of at least €40 at any participating Villach business* beginning on August 19, 2020, take a clear picture of your receipt and upload it at www.villach.at/lokal-bonus (only one receipt per person per day is allowed).
Once the receipt is checked over, you will receive a confirmation email with the gift certificate authorization.
Between August 30 and October 30, 2020, bring your picture ID and your printed out confirmation email(s) to Stadtmarketing Villach to pick up your gift certificate(s), which will be valued at 20-25% of the amount of each receipt (maximum of €40 worth of gift certificates per receipt).
Redeem your gift certificates until October 31, 2020, at your favorite Villach restaurants, bars, cafés, or ice cream shops. (Important: It is necessary to inform your server in advance that you want to pay with Villacher LOKAL BONUS gift certificates.)
Detailed information is available (in German) on the official Villach LOKAL BONUS website.
The "LOKAL BONUS" initiative will run until the €150,000 fund is used up (or October 30th at the latest), so make sure to plan your shopping trips soon to take full advantage of this special bonus program before it's over!
*All shops in Villach are participating, with the following exceptions: food shops, home improvement retailer chains, furniture shops, food service establishments, casinos, betting shops, and gas stations; purchases of gift certificates, prepaid cards, and tobacco products are also excluded.
---