living
•
reading time: 6 min
•
publication date: 26.08.2019
ALL ABOARD: ENJOY THE VILLACH REGION BY SHIP AND BOAT
RVT | Design Photograph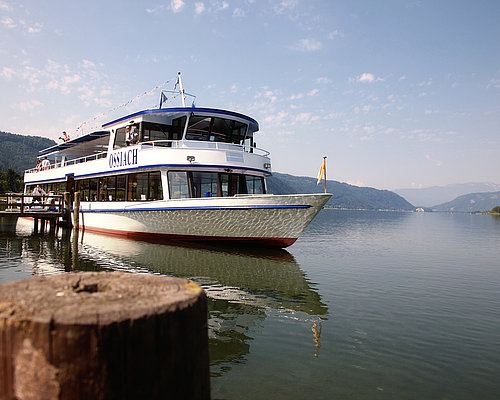 Discover the beauty of the Villach region with a relaxing boat excursion. From May to October, the Villach region has three excellent locations to explore the region from the water. Go aboard the MS Landskron for a scenic boat cruise along the Drau river in Villach or stop by one of the many boat rental locations at Lake Ossiachersee or Lake Faakersee to captain your own boat. Whether it is by ship, electric boat, or rowboat there are plenty of ways to enjoy Villach on the water.
CRUISE THE RIVER DRAU
Flowing by the historic Villach city center is the river Drau, the largest river in Carinthia. Famous for its vibrant blue-green color, the river Drau is one of the things that makes Villach such a beautiful place to live.
From May to October, the Drauschiffahrt Villach has daily roundtrip tours aboard the MS Landskron. This popular roundtrip voyage connects Villach with Schloss Wernberg castle and the Sankt Niklas/Faakersee area. With its panoramic glass roof, it is possible to enjoy a cruise on the river Drau no matter what the weather is. Plus, Kärnten Card members can ride the ship for free.
Throughout the year, the Drauschiffahrt cruise has many special events such as the popular Jazz Brunch every second Sunday in July and August. In the early summer months, it is also possible to watch a play or performance while traveling down the river with productions by Neuebuehne Villach. In December, the Drauschiffahrt has a special winter Advent cruise that takes place during the annual Villach Adventmarkt.
For more information about tickets and upcoming events, check out the Drauschiffahrt website.
LAKE OSSIACHERSEE BY BOAT
Travel across the emerald waters of Lake Ossiachersee aboard the MS Ossiach. While riding around the lake, you'll be able to explore all of the lake's top destinations such as the Bleistättter Moor and Domenig Steinhaus. The MS Ossiach is open from May to October and has many ticket options ranging from short lake crossings to roundtrip excursions. From July to September, be sure to make a reservation for the delicious Ship and Barbecue evenings. For more information and to make reservations, check out the MS Ossiach website.
If you have a sense of adventure, there are many places to rent a boat to explore Lake Ossiachersee on your own. Try a pedal boat for a scenic escape or for a less exhausting option, rent an electric boat. Another summer favorite is the BBQ Donut which is a circular electric boat with a real charcoal grill at its center.
Boat Rentals Around Lake Ossiachersee:
Bootsverleih Brunner in Annenheim, +43 (676) 6055901
Bootsverleih im Strandbad Christa in Annenheim, +43 (676) 7300066
Surf- und Segelschule Annenheim, +43 (650) 331 8000
Bootsverleih Ossiach in Ossiach, +43 (650) 3506615
Bootsverleih Gabi in Sattendorf, +43 (676) 5518550
Bootsverleih im Strandbad Steindorf, +43 (650) 7300706
Sportschule Blasge in Bodensdorf, +43 (664) 4232006
Wassersportzentrum Berghof in Heiligengestade, +43 (4242) 41133
LAKE FAAKERSEE BY BOAT
Famous for its turquoise water, the lake Faakersee is a top holiday destination during the summer. One of the best ways to experience this beautiful lake is with a relaxing excursion on the water. From May to October, there are plenty of boat rental locations around the lake that offer different options to enjoy the water. Whether it is by electric boat, pedal boat, rowboat, sailboat, or stand up paddleboard - there is something for everyone at these boat rental locations.
Boat Rentals Around Lake Faakersee:
© RVT | Michael Stabentheiner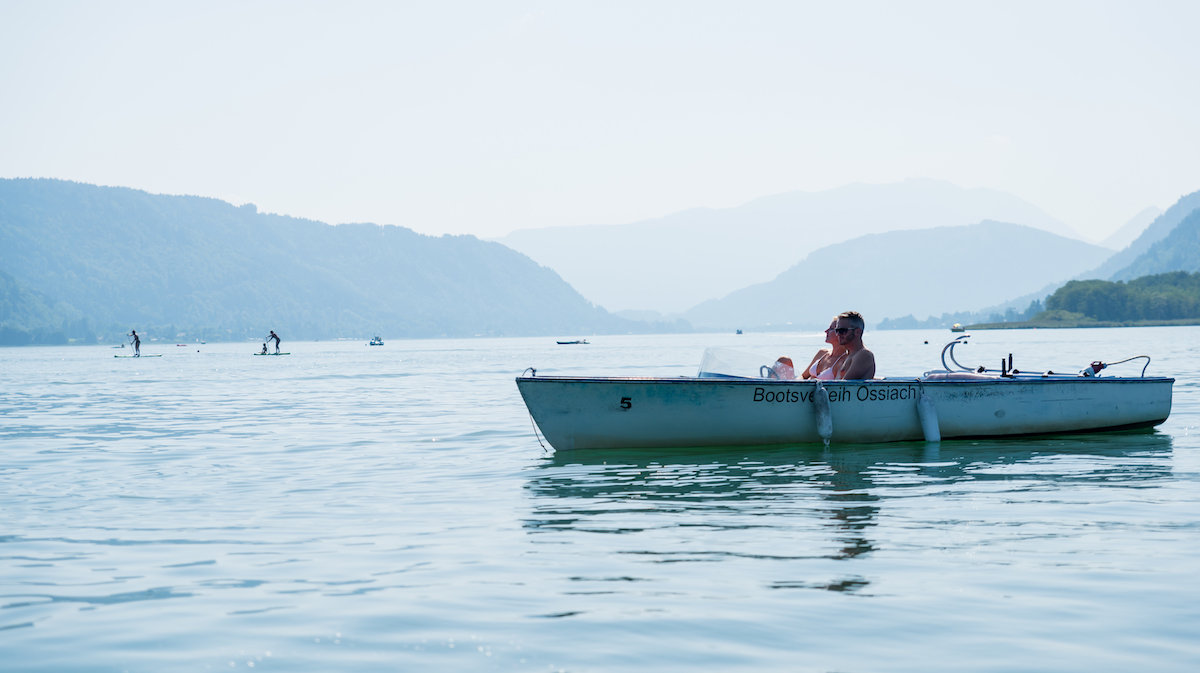 With so many options to experience the Villach region by boat or ship, there is no excuse to not enjoy a day on the water. We hope that with these tips you can "set sail" soon.
---