learning
•
reading time: 5 min
•
publication date: 13.08.2021
LEARNING GERMAN IN VILLACH
FH Villach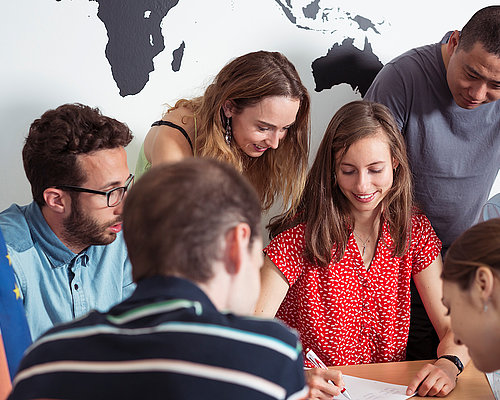 How are you feeling about your German language ability these days? Frustrated with how hard it is? With all the articles, genders, and declinations many people find German a difficult language to learn - so you're not alone if you've been struggling! On the other hand, maybe you feel like you have a solid base and are looking for more speaking opportunities or classes to give you a boost so you can get even better. Or maybe you're somewhere in between, motivated some days and super frustrated on others? Either way, this is the post for you if you're looking for opportunities to improve your German - or your Austrian! :)
CLASSES
There are many options for taking German classes (and other languages!) in and around Villach, depending on what you're looking for. Here are some of the more well-known options to get you started on your search to find the right kind of class for you:
LANGUAGE SWAPS/EXCHANGES
Have you heard of language swaps or exchanges? This is a flexible and fun (and usually free!) way to improve your speaking ability in a language you are learning. It works like this: you and your partner speak your native language for half an hour and then switch and speak your partner's language together for half an hour. The CIC is one place to go to for help finding a partner for a language swap, and there are also a couple options for language swaps out of Klagenfurt, including the Language Exchange and Klagenfurt University's student announcement board.
For those who would like to practice speaking German and Spanish or German and Italian, the CIC's Spanish-German or Italian-German Language Ateliers are a great choice for a language swap in a group setting.
You've probably heard this before but it really is true - when you go abroad, learning the local language is helpful for all kinds of reasons and really can improve your life as an expat. Learning the language can increase your job opportunities, give you more chances to meet locals and learn about local customs and history, help you adjust to and fully embrace life here - and it's even good for your brain!
Hopefully this post has helped you in your search for the right language class for your situation. Do you know of any other interesting institutes or options? If so, be sure to let us know in the comments on our Villach in English Facebook page!
---