living
•
reading time: 16 min
•
publication date: 18.01.2021
DISCOVER AUSTRIA - FUN TRAIN TRIPS FROM VILLACH
Stadt Villach | Karin Wernig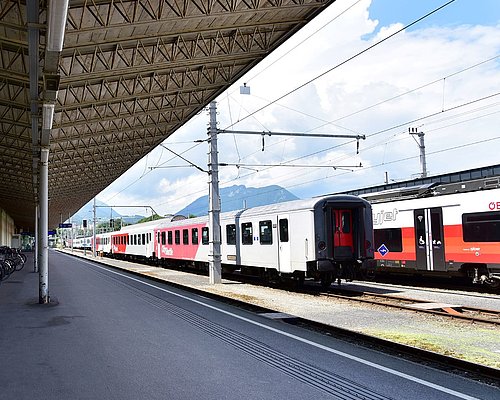 January in Villach: though it's still cold and there are plenty of local outdoor activities to enjoy, with the return of more daylight and the young year still a blank slate, many people are excited to start planning adventures for the coming months. Have you ever considered a trip by rail? If you'd like to discover more of Austria and enjoy a relaxing trip without the stress of traffic jams, finding parking, and the cost of highway tolls and fuel, train travel can be a great choice!
Austria has long had a well-run and comfortable railway system, and in recent years its national railway company, the ÖBB, has become a leader in sustainability due to its use of renewable energy and other eco-friendly practices. The end of 2021 also saw the release of the long-awaited Climate Ticket (KlimaTicket), a cooperation between many regional and national public transportation partners which covers the cost of travel on all public transportation within Austria (trains, buses, etc.). If you plan to stay mostly in Carinthia you may be interested in the KärntenTicket, which is more affordable and covers all public transportation in the province (including Lienz in East Tyrol!). These tickets are valid for one year and can be an ecological and economical choice to commute to work, to do errands around town, or to take leisure trips both near and far. But whether you're ready to commit to using public transportation much more often or just want to take a train trip now and then, we hope this collection of great day or weekend trip ideas that can easily be taken from Villach will inspire you to discover more of Austria by public transportation!
© RVT | Michael Stabentheiner
SUNNY EAST TYROL
The sunny small city of Lienz can be reached in an hour and forty-five minutes from Villach, with trains leaving conveniently every hour. Lienz has a charming medieval old town with some great cafés and restaurants and is surrounded by the beautiful Dolomite mountains. There are two popular skiing areas which you can easily reach with the ski bus from the train station (Free for skiers! Also great for hikers!), and if you're there in warmer months be sure to check out the super fun Osttirodler Alpine Coaster and nearby high ropes course.
Insider tip 1: Bring your bike with you to Lienz (or rent one there) and spend a couple wonderful days enjoying the scenery of East Tyrol and Upper Carinthia as you make your way back to Villach on the Drau Cycle Path.The super helpful website can tell you everything you need to know about accommodation along the way, what the different sections of the route are like, and tips on important details like where to find the best food, what to do in case you need repairs, or how to rent a bike for the excursion. And the best part? If you get tired or need to get home in a hurry, just jump on the next train at one of the stops located conveniently along the path and you'll be home in no time!
Insider tip 2: Do you prefer a boat seat to a bike seat? Nearly the same route is possible by paddling back down the Drau River itself, on the Drau Paddelweg! You can rent a kayak or canoe and there are sections of the river that are fun for the whole family and can easily be paddled by those with little experience. The different starting and ending points are right next to train stations, and rental includes everything you need for a great trip down the river.
© bikeboard | Roland Kalchhauser
GASTEIN VALLEY
The Province of Salzburg's amazingly scenic Gasteinertal has it all - ski slopes, hiking trails, alpine huts, thermal spas, bike trails, and more. But did you know that getting to Gastein from Villach is much quicker by train than by car, with the trip taking only one hour? The ÖBB even offers a combo ticket, which includes roundtrip train fare and a 1-, 3-, or 6-day ski pass. Even more convenient? The Stubnerkogel ski slopes are right next to the Bad Gastein train station!
MALLNITZ AND HOHE TAUERN NATIONAL PARK
In only 45 minutes the train can get you from Villach's bustling downtown to the peaceful village of Mallnitz, surrounded by the spectacular Hohe Tauern National Park. This town is one of the so-called "Alpine Pearls" - a group of 19 Austrian resort towns that have made an extra effort to be convenient to people traveling without a car. This means that in Mallnitz there are shuttle buses to get you to your accommodation, e-bike rentals, hiking buses, and discounts on some activities and accommodation. There is a fascinating visitor center open in spring, summer, and fall where you can learn all about the flora and fauna of the park, and where kids can participate in super fun hands-on park activities. The trail through the Seebach Valley is a great walk for families, and other local activities include guided snowshoe hikes in winter, programs for kids and teens in summer, tons of different hiking trails, ski slopes, and more.
CARINTHIA'S OLDEST CITY
In an hour to an hour and a half the train can bring you to Friesach, a charming medieval town near the Styrian border. With a water-filled moat and fortifications, a lively theater scene with both indoor and open-air performances, and an experiential chocolate factory with guided tours and tastings, this quaint town is not quite like the others. Super interesting: they are in the middle of building a medieval hill castle using only techniques and materials from the middle ages, and you can tour the grounds and see their progress.
HISTORIC SALZBURG
A comfortable train can get you from Villach to the center of Salzburg in just two and a half hours, and the advantages of visiting this amazing city without a car cannot be overstated (no driving stress, no traffic, no tolls, no parking nightmares!). Whether it's to sightsee around the old town and stroll along the Salzach River, to enjoy one of the countless cultural events that take place there every year, to take in some museums or galleries, or do a little shopping, experiencing Salzburg is a fascinating mixture of ancient and modern. This city of hills also has some great walks that shouldn't be missed - and which can help you work off the delicious food and drink you're sure to find! And with it's comprehensive, safe, and clean network of city and regional buses, it's super easy to enjoy a visit without a car.
AUSTRIA FROM END TO END
Are you wanting to take a longer trip, or experience a totally different part of the country? Vienna, the country's lovely and multifaceted capital, can be reached by train these days in as little as 4 hours and 20 minutes. On the other end of the country, Bregenz, with its music and dance festivals and gorgeous location on the shores of Lake Constance (Bodensee), can be reached in 7 hours.
---