living
•
reading time: 5 min
•
publication date: 07.08.2019
CRAFTED: A BEER LOVERS GUIDE TO CARINTHIA
RVT | Martin Hofmann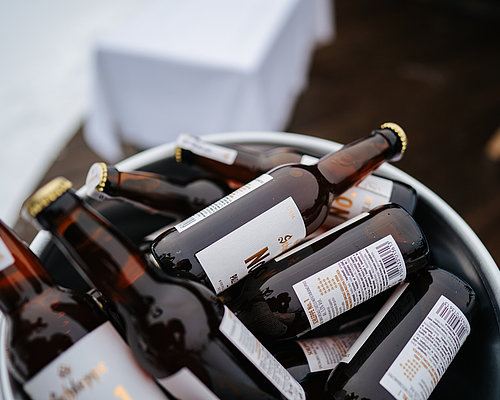 The city of Villach has a long tradition of loving beer and has been brewing it since the Middle Ages. In the past, there were more than 20 small breweries in Villach producing regional Steinbier for the community. Given the historical significance of beer and tavern culture, its no wonder that Villach gained the reputation of being a "Braustadt-Draustadt" (brewing city - river Drau city). In present times, Villach is returning to its beer-brewing roots as craft beer gains in popularity across Austria. Interested in learning more about beer in Carinthia and Villach? Check out this beer lovers guide to Carinthia.
CLASSIC CARINTHIAN BREWERIES
Beer is well-loved in Austria, with each Austrian typically having a favorite go-to beer brewery. In Carinthia, there are three classic breweries to choose from.
Villacher in Villach - Villacher is arguably Carinthia's most popular beer (although we may be a little biased). Stop by the Villacher Brauhof or Biereck for beer and a great meal, or book in advance to join a brewery tour.

Schleppe in Klagenfurt - Schleppe Brewery in Klagenfurt is famous for brewing specialty beers such as its Weizenbock and Belle Saison. Tours are offered from May until September at 10:30 AM Monday through Friday.

Hirter in Micheldorf - Hirter dates back to 1270, making it one of Austria's oldest private breweries. Hirter proudly brews more than 10 beers and offers food and tours at the Hirter Brauerei and Braukeller
CRAFT BREWERIES OF CARINTHIA
Small craft breweries are gaining in popularity in Carinthia. Each of these breweries offers distinct specialty beers that highlight the best of the region's brewing culture.
© RVT | Adrian Hipp
SPECIAL BEER EVENTS FOR 2019
Bier. Draustadt - Braustadt at the Villachstadt Museum until October 31, 2019 - In this special exhibition, you can learn more about the cultural history of beer brewing in Villach. The exhibition spans more than 10,000 years of history from the creation of beer to the modern craft beer trend. Opening hours for the museum and exhibition are Tuesday to Sunday from 10:00 AM to 4:00 PM. For more information contact - 04242 205 3515 or museum@villach.at.

Crafted Beer Garden hosted by Turmstüberl August 14 & 28 and September 4, 2019 - As part of the "Bier. Draustadt - Braustadt" exhibition, all are invited to sample regional beers at the pop-up Crafted Beer Garden hosted by Turmstüberl. Starting at 6:00 PM, the rose garden in Villach's old town transforms into a beer oasis with tasty slow food pairings. Don't miss it -

Auf der Biersch at Hundsmarhof from August 23 - 25, 2019 - Enjoy a scenic walk through the forest to Hundsmarhof for an unforgettable beer and culinary event. Now in its fourth year, Hundsmarhof hosts more than 30 craft breweries from the Alpen-Adria region as they sample refreshing craft beers. Dates subject to change depending on the weather, for more information, visit their website.
Well, beer lovers, we hope you have a safe and enjoyable time enjoying Carinthian beer. Prost!
---