enjoying
•
reading time: 8 min
•
publication date: 29.06.2018
VILLACH SERVICE CLUBS
RVT | Lukas Kirchgasser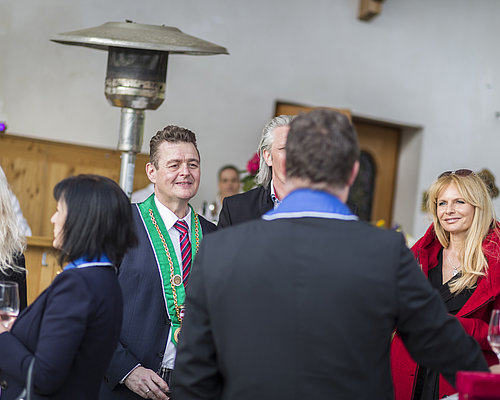 The best way to find yourself is to lose yourself in the service of others.
- Mahatma Gandhi
Everyone seems to be busy these days, so why would we suggest you join a service club? Because service clubs can impact your personal life and the local community in a hugely positive way. Joining a service club has countless benefits including networking opportunities, developing leadership skills, and that "feel good" feeling. Certainly, we are all capable of giving back more to our community. In Villach, there are plenty of opportunities to get involved and be of service to others. Check out four service clubs in Villach that are making the city a better place for all.
ROTARY CLUB
The Rotary Club is an international non-profit organization with more than 33,000 clubs in over 200 countries. As a service club, they are dedicated to helping others and strengthening communities. The Rotary Club was founded in Austria in 1925 to promote friendship and goodwill. These values are still focal points for the work of the Rotary Club today. On a local level, the Rotary Clubs in Villach have organized a variety of charitable community events. From fun events like flea markets and jazz concerts to important charitable work like German courses for asylum seekers, the Rotary Club has made its mark in Carinthia.
Interested in getting involved? There are fourteen Rotary Clubs in Carinthia, including two in Villach. More information can be found on the Rotary Club Carinthia website.
LIONS CLUB
With the motto of "we serve", Lions Club International is dedicated to helping others. With more than 1.4 million members worldwide, the Lions Club is the world's largest service organization. The Austrian branch of the Lions Club was founded in 1953 and has more than 7,200 Austrian members that are eager to give back. On a yearly basis, they raise more than 3 million euros for humanitarian aid in Austria. As a service club, their goal is simple - help one's neighbor as quickly and efficiently as possible.
The Lions Club in Villach organizes several charitable events a year and is always looking for new members.
KIWANIS
Each community has different needs and Kiwanis is a service club that encourages members to find creative solutions to help children. What makes Kiwanis unique? Each Kiwanis club independently decides its activities and as a matter of principle, members are not expected to donate money. Kiwanis wants its members to be personally involved in humanitarian activities to build human connections. Kiwanis guides its practices based on the "golden rule" - that you should treat others as you would like them to treat you. With this in mind, Kiwanis in Austria has been involved in a variety of activities to help children including youth summer camps, scholarships, and outdoor activities.
With more than 10,700 clubs in more than 80 countries, it is easy to understand why people want to get involved with this service club. Check out what Kiwanis Austria has been up to on their website or Facebook page.
ROUND TABLE
Round Table is an international service club that is dedicated to the motto of "adopt, adapt, improve". As a club for men between the ages of 18 to 40, they believe that men must, "get together around the table, adopt methods that have proved sound in the past, adapt them to the changing needs of the times and wherever possible, improve them." Inspired by the legend of King Arthur's round table, these young men help their communities through service activities.
The Villach chapter of Round Table has been very productive since its founding in 1965. In the 50+ years, they have been in the city, they have organized fundraisers, supported countless children, and even helped build a school in Nepal. See for yourself all that Round Table has done in Villach on their homepage.
Have we inspired you to join a service club yet? Be a part of what makes Villach a wonderful place to live by helping others. The world (and Carinthia) will be a better place for it!
---