living
•
reading time: 8 min
•
publication date: 29.09.2017
HIKING TO HUNDSMARHOF FOR A TASTE OF CARINTHIA
RVT | Foto Kohlmeier
Hiking is a popular sport in Austria and on many hiking trails you can find a Hütte. Hütten are mountain huts that are found throughout Austria and the Alps. There are many purposes for Hütte ranging from a nice mountain guest house to enjoy a meal and stay the night to a small emergency Alpine hut for refuge in bad weather. The Villach region has many mountain huts that offer excellent regional food and I am on a quest to eat at them all. I decided to begin my "Villach Hut Quest" with a visit to the legendary Hundsmarhof, known for its fantastic Carinthian food.
Hundsmarhof is a popular hiking destination located at the northern foot of Villacher Hausberg. One of the things that makes Hundsmarhof so appealing is that there are so many ways to hike there. Looking for an easy hike for the whole family? Start the trail from Heiligengeist up forest path no. 22 and reach Hundsmarhof in under an hour. Interested in a more challenging route? Hike from Warmbad over the Völkendorfer Alm for an ambitious workout before enjoying the reward of a delicious meal.
What makes the food so great at Hundsmarhof? The menu is filled with seasonal delicacies made from ingredients that come directly from the surrounding forest and the host couple's garden. The game from the menu is provided by local huntsmen. The mushrooms in the meal are foraged from the forest. Everything that is cooked at Hundsmarhof is fresh and delicious. Plus their desserts aren't too shabby either.
I opted to take the easier hiking trail from Heiligengeist to enjoy a nice lunch at Hundsmarhof. I brought my trusty hiking companion Laika the poodle along with me for a workout. On our hike, we saw plenty of wild mushrooms. The trail was very enjoyable since the Autumn leaves were beginning to change color. Once we reached Hundsmarhof, we sat on the terrace and I enjoyed a plate of homemade Kärntner Kasnudeln. Kasnudeln is a Carinthian stuffed noodle dish made from fresh herbs, Bröseltopfen cheese, and potatoes that is served in browned butter. The Kasnudeln at Hundsmarhof is delicious, I am trying to convince my husband to hike there with me so I can enjoy that buttery goodness again.
© RVT | Hannes Kohlmeier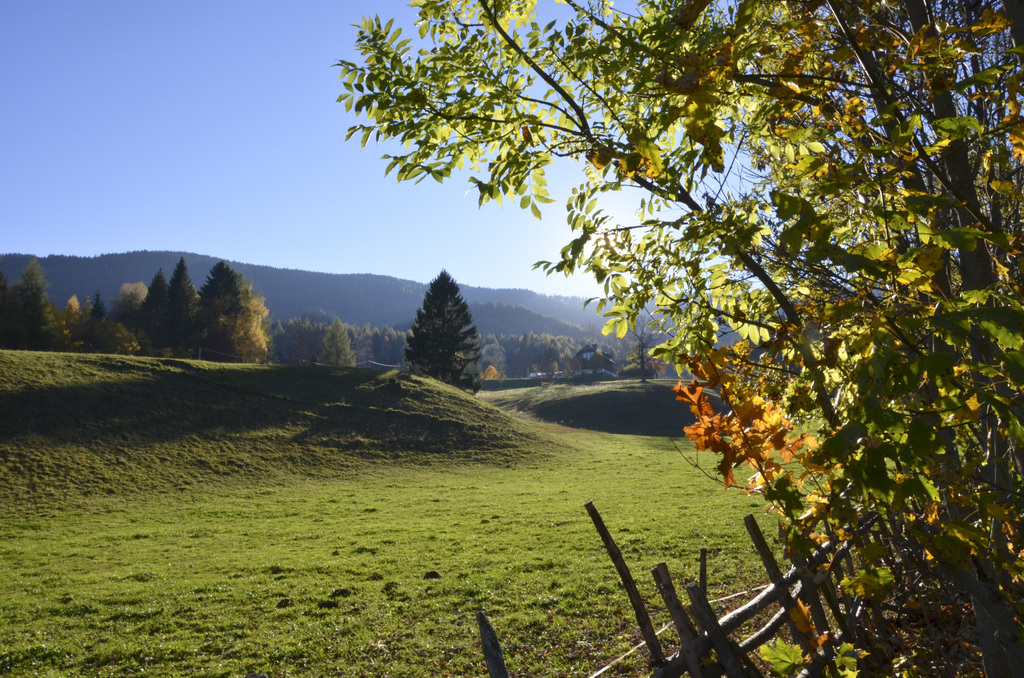 During the months of September and October is Hüttenkult. Hüttenkult is a fun combination of hiking and dining that encourages hikers to explore the mountain huts of the Villach region. This year there are 10 Alpine huts that are participating in Hüttenkult, Hundsmarhof included. Each hut offers traditional dishes from Carinthia. Autumn is the perfect time to hike to a mountain hut since the weather is fantastic. Carinthia, the Austrian state where Villach is located, is known for its sunny weather. The cool temperature and sunny days are perfect for hiking (and eating) in the mountains.
HUNDSMARHOF TRAIL HIKING INFORMATION
Distance: 5.3 km
Hours: 1 hour 30 min
Elevation: 99 mm ascent
Difficulty: easy
Address: Almweg 51, 9500 St. Georgen-Villach
Phone: +43 4244 2312
Website: www.hundsmarhof.at
Open Year Round
Wednesday - Saturday from 10 - 20:00
Sunday 10 - 18:00
Closed Monday and Tuesday
---