living
•
reading time: 8 min
•
publication date: 26.02.2018
FULL MOON SNOWSHOE TOUR ON THE DOBRATSCH
RVT | Hannes Kohlmeier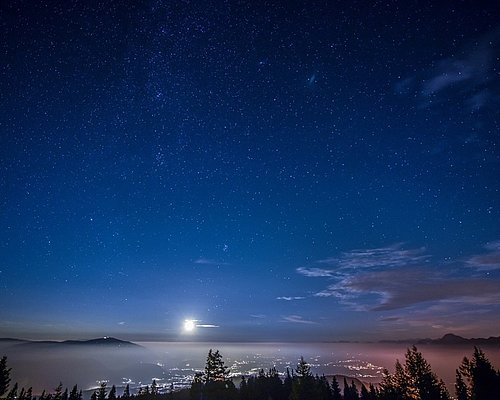 Snowshoe by the light of the moon on the Dobratsch mountain in Villach. Every year, the Nature Park Dobratsch hosts a "Vollmondschnneschuhwanderung" during the full moons in February and March. Everything is different when you hike in the dark. Add snow to the mix and you get an exciting adventure unlike anything else. Even if you have hiked the Dobratsch before, seeing the trails bathed in moonlight is a special experience. Crisp white snow, fresh mountain air, plenty of stars and great company makes for a memorable evening.
Snowshoeing is an excellent way to explore the mountainous Villach region in winter. Even if you have never snowshoed before, it is surprisingly easy. If you know how to walk, you can snowshoe. At the start of the tour, the Nature Park Dobratsch guides are on hand to help equip you with your gear and answer questions. As an experienced hiker but first time snowshoer, I really appreciated the help figuring out how to put on snowshoes. With the snowshoes on, I felt like I was waddling duck but quickly got used to it!
© RVT | Martin Hofmann
After a short introduction on handling snowshoes and safety gear, the guided tour begins as the winter moon rises. The snowshoe hike goes from the Rosstratte to the Zehnernock and takes several hours for the round-trip. During the hike, the guides provide exciting information about this history of the nature park, its wildlife, and the full moon. Information is provided in German, but I was lucky enough to have one guide with us that spoke some English.
Snowshoeing up the Dobratsch during the evening provides wonderful views of the city of Villach below. There are plenty of opportunities to take photos on the guided tour, so bring your camera.
The guided tour leads to a rest hut where the group can relax and enjoy a beverage. After snowshoeing up the Dobratsch, it is pleasant to rest with a warm cup of tea and talk to fellow snowshoers. Once I reached the hut, I was happy to relax for a moment and take in the natural beauty of the mountain. Seeing the moonlit snow was very peaceful.
The downhill return journey back to Rosstratte was much easier than the uphill portion, although I did fall down in the snow a couple of times - ha! At the end of the snowshoe tour, I felt proud of myself for joining in on this unique adventure. Seeing the Dobratsch in an entirely different setting was unlike anything I had experienced before. I hope to do it again next year!
INFORMATION FOR THE FULL MOON SNOWSHOE TOUR ON THE DOBRATSCH
2018 Date : Friday, March 2nd (02.03.2018), 18:00 - 22:00

Registration: Verein Naturpark Dobratsch
T: +43 (0) 4242 205 6019 | E: naturpark.ranger(at)villach.at
Deadline: Thursdays before the hike until 12:00

Bus Transfer is available to the Nature Park Dobratsch for the snowshoe tour:
Departure: 17:00 - Villach main station
Return: 22:00 - from the Rosstratte (stops see Nature Park shuttle bus )

Costs: Adults € 5, - | Children and adolescents up to 18 years € 2
More information can be found at wwww.naturparkdobratsch.at
---